The website makes use of captivating imagery that showcase the great range of exclusive tartans that Highland Kilt Connections provide. We created a page for each individual tartan with a slideshow of images, so the customer can view the high-quality outfits in greater detail.
Each outfit page is linked directly to a page for each store so that customers can arrange the hire of an outfit. Structuring the website in this way makes it easier for customers to arrange the hire and our client receives more customer enquiries.
The design of the website was carried out in two main stages. First of all, we created the wireframe sketches, which shows the navigation and content that appears on each page. The second stage was creating the mockup, which shows the final imagery, colours and fonts, which allow the website to stand out from the crowd.
The designs were showcased on our design sharing software, which allowed the client to be involved in the design process and provide feedback whenever they wanted to.
We developed the website so it is optimised for all device types, meaning the user has a great experience on mobile, tablet and desktop. The website also makes use of an SSL security padlock, meaning it is safe and users can trust in the security of the website.
The website was developed with an admin area, which means the client can maintain the content after launch, which keeps the content fresh and inviting for new customers. The website is also optimised to load quickly, which is a key aspect of performing well in Google's search results.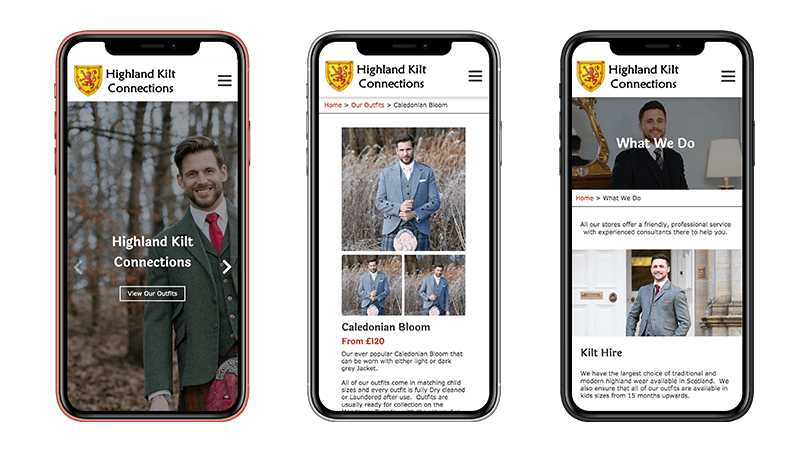 After the launch of the website, we created an analytics dashboard so that the performance of the website could be monitored. Highland Kilt Connections have a better understanding of their customers and how they use the website, which means that they can make better-informed business decisions for their online strategy.